SDA Anchor Bolt-A good Helper for Tunnel Engineering Construction
Time:2020-05-26From:sinorock View:
In recent years, with the advancement of technology, great changes have taken place in people's lives. Travel is convenient with the rapid development of CHSR.
Imagine how long it would take from Kunming China to Laos without railway, the answer is 2 days. Now, the China-Laos railway is expected to be fully operational by the end of 2021. Then it will take only one single day from Kunming, China to Vientiane, Laos.
The Yuxi to Mohan and the Lele tunnel of the Chinese section has been successfully opened on May 15th. It is the first long tunnel at the northernmost end of the Yuxi-Mohan railway, named as "throat" tunnel by builders.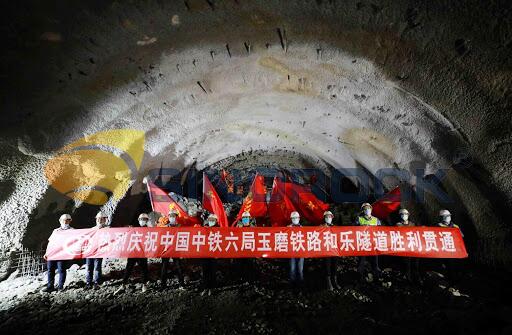 The Hele Tunnel is 7.9 kilometers, located in Yuxi City, Yunnan Province. It passes 2 chasm fracture zones, with complicated stress conversion, unsteadiness rocks, and gushing water. It is one of the major projects of the China-Laos Railway.
"The tunnel passes through the water-rich area. The Rock is badly weathered and the geology is mostly sandstone and mudstone." Dong Yonggang, the project manager said, "It is easy to crush and mud, just like making holes in mud, hard to form."
This geological condition of sandstone and mudstone makes it very easy to cause collapse holes during construction. In order to solve this technical problem, engineers chose
self-drilling anchor bolts
as support products. Because it can combine drilling, grouting, and anchoring functions, the anchor bolt does not need to be taken out after drilling. During the rotation of drilling, cement slurry will enter through the hollow pipe of the anchor bar. Then the anchor rod is consolidated with the rock and soil, which not only solves the problem of hole collapse, but also achieves a better anchor effect.
During construction, the tunnel will also pass through the water-rich section, which affects the anchors useful life. Stainless steel bolts can be used to strengthen the protective effect. Alloy steel materials have good antioxidant activity, can resist corrosion under air and chemical conditions, and can better adapt to water-rich geological conditions. Meanwhile, it has the characteristics of good strength and high wear resistance, which can be used as permanent support for the project, making the project construction safer and more security.
Sinorock®
has been deeply involved in the research of the geotechnical anchoring industry for many years, focusing on solving various construction difficulties. We conduct surveys and investigations at the project site, propose systematic solutions to customers, and conduct product development based on customer needs. Our main products are: self-drilling anchor bolt system, duplex coating anchor bolt system, stainless steel self drilling anchor bolt system and other anchor accessories. Sinorock® has advanced production equipment and stringent quality control system. The products have been exported to more than 40 countries on 6 continents, have been widely used in
foundation, tunnel and slope engineering
, and have met different demands of various costomers.