Self-Drilling Anchor Bolt Construction in Complex Geological Slope
Time:2021-02-08From:sinorock View:
The P2 main tower of Dongshuimen Yangtze River Bridge is located between Changbin Road and Gang District Road. It is not only occupying the whole width of Gang District Road, but also half of the passage of Changbin Road. When the foundation was excavated, an 18m high face is formed. To prevent foundation damage, the side slope of Changbin Road is supported.

Through a detailed survey, the foundation slope stratum is mainly backfilled by sand pebbles, gravels, construction waste. During excavation, large mudstone aggregates appeared, and the rock strata were accompanied by irregular cracks and large cavities. The geological conditions in this area were complex and the construction safety risk was large.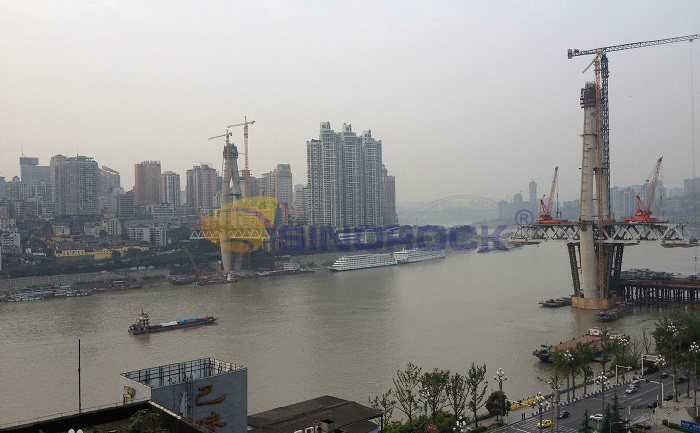 Based on the above analysis, combined with the situation of
loose and broken strata and difficult form holes
, the temporary protection measures of self-drilling hollow anchors and welded mesh shotcrete are proposed for foundation protection. Self-drilling hollow anchor bolt is composed of drill bit, hollow bar, plate, nut, centralizer and coupler.
By calculating the force value, contractor adopted φ32mm self-drilling anchor bolt for grouting and anchoring. The lengths are 15m in 3 rows, 12m in 2 rows and 8m in 3 rows respectively. Steel bar welded mesh is placed on the slope with φ6.5*100 * 100mm. Finally, spray C20 concrete. Before shotcrete, drainage holes with a spacing of 3.0m and φ50mm were reserved on the slope.
During construction,
self-drilling hollow anchor bolt
integrates
drilling, grouting and anchoring
functions, which significantly improves drilling efficiency. And under the action of pressure pump, the grouting in the rock strata and voids is full, which ensures the grouting thickness and anchoring effect.
Data show that there is no displacement of foundation during construction. It shows that the construction scheme of
Φ32mm self-drilling hollow anchor bolt
and steel bar welded mesh grouting has successfully completed the excavation and protection of the main tower foundation while ensuring the safe operation of vehicles on Changbin Road.