Self Drilling Rock Bolt, An Economic & Efficiency Method to Support Fractured Rock Mass
Time:2022-05-10From:sinorock View:
Nowadays, in many excavation construction projects, we need to support or stabilize the roofs, foundations, slopes or other structures. The most common support system or method used for these projects is self drilling anchor rock bolt. It is more economic and efficiency than any other conventional methods, such as solid bar, anchor line, casing. Now, Let Sinorock show you how self drilling anchor rock bolt save your money and time.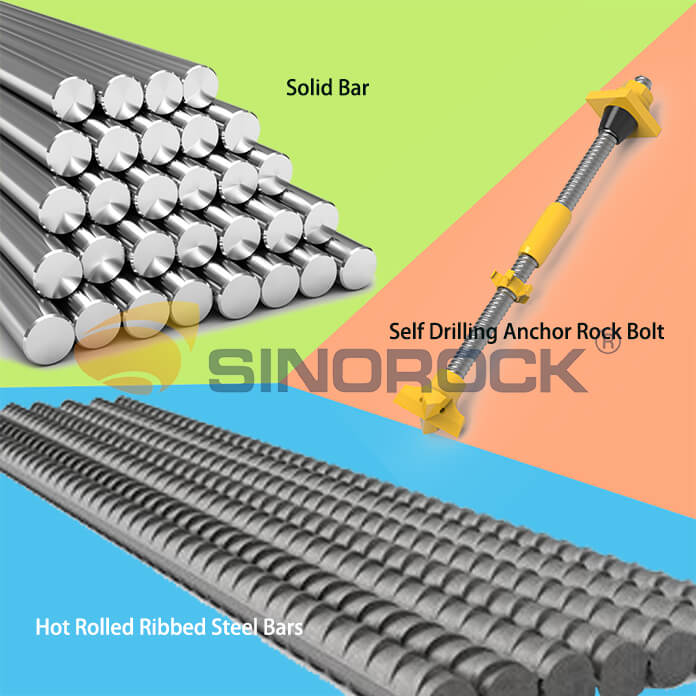 Self Drilling Anchor Rock Bolt Structure/Components
There are six primary parts that construct a complete self drilling anchor rock bolt. They separately are a sacrificial drill bit, a fully threaded hollow steel bar, a coupler to continue the hollow steel bar if necessary, a plate and a nut to transmit the force from rock mass, a centralizer to ensure the hollow steel bar being at the central position of the drilling hole, and an alternative shank is required if the drilling rig has the percussion function.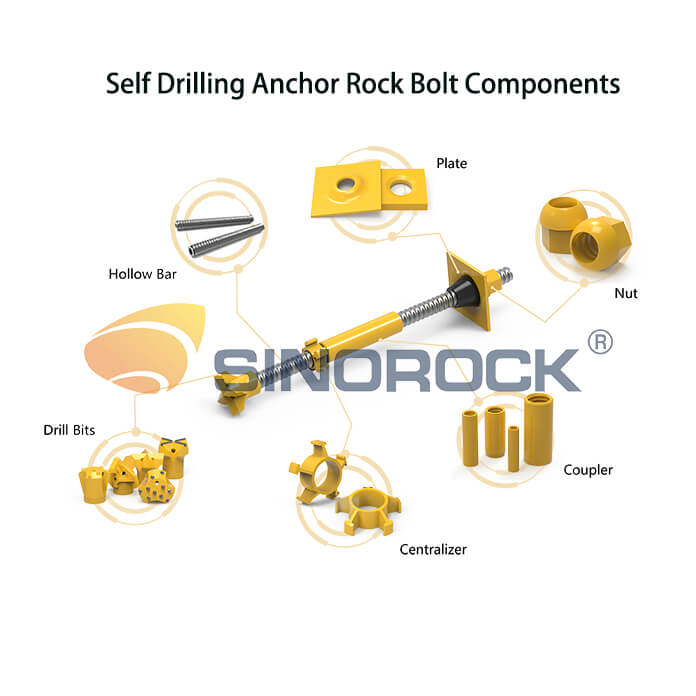 Self Drilling Anchor Rock Bolt Types
According to the way in which the self drilling anchor rock bolt is threaded, we divide the rock bolts into two types, R thread and T thread.
The surface of R type rock bolt is fully rope threaded, which meets the ISO 10208.
The thread of T type rock bolt contains two parts. One part is flat, the other part is embowed. The special design of T thread will increase the anchoring force.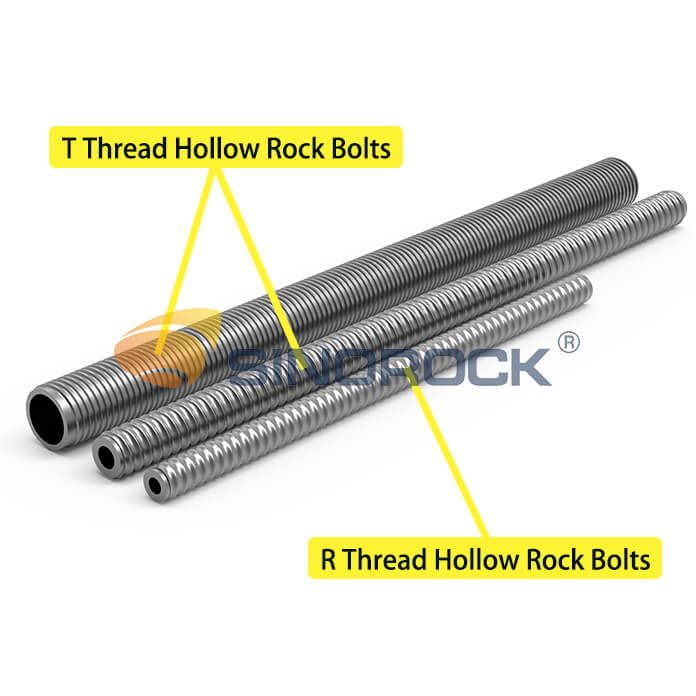 Self Drilling Anchor Rock Bolt Installation Procedure
2~3 people are enough to process the whole installation procedure of the self drilling anchor rock bolt. Please see below.
Preparation
Do some checking, including if the drilling rig works, whether anchor body is unblocked, and so on.
Select a proper drill bit according to the following factors: service life, maximum length of anchor body, geological condition, geometry.
Drill and Grout Simultaneously
Connect the grouting pipe with the rotary grouting adapter and open the grouting machine, it will automatically simultaneously grout when drilling.
This is the feature of self drilling anchor rock bolt differing from other traditional solid anchor bar. It is no risk of hole collapsing when drilling in the unstable rock and soil mass.
Extend Anchor Body
With the coupler, it is possible to extend the anchor body to meet the required drilling depth. All you need to do is just screwing the coupler on the end of an anchor body by your hand.
Install Plate and Nut
After the slurry curdles, install the plate and nut.




Self Drilling Anchor Rock Bolt Anticorrosion Method
During application, the biggest influence on the service life of rock bolt is the corrosion of surrounding environment, so it is especially important to have anti-corrosion rock bolts.
Sinorock has 3 types of anticorrosion self drilling anchor rock bolts, Hot-dip Galvanized Rock Bolt, Epoxy Coated Rock Bolt, and Duplex Coated Rock Bolt, which are used to adapt to different conditions.

Hot-dip Galvanized Rock Bolt
Suitable for geotechnical engineering applications where longer service life is needed and the surrounding environment is complex, such as roads, railways, hydro-projects and other buildings that may be affected by seawater.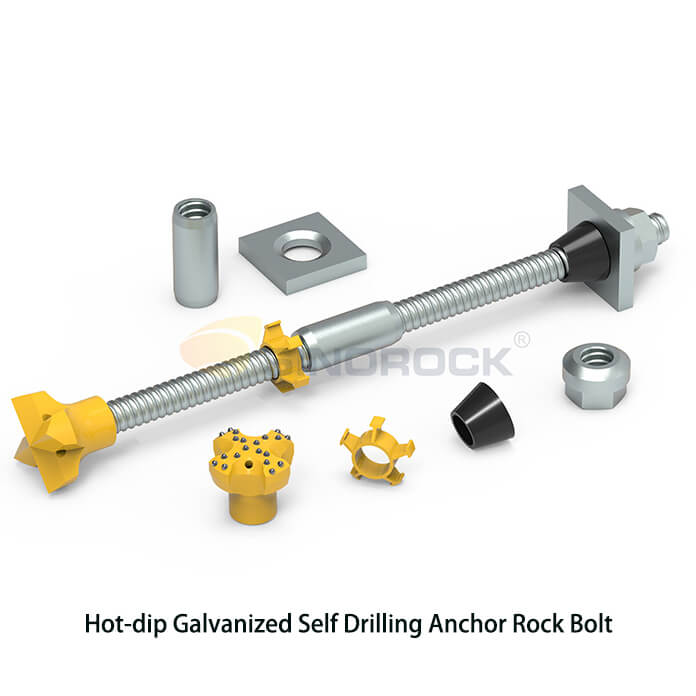 Epoxy Coated Rock Bolt
Mainly used in industrial and civil construction, general structures and roads, bridges, ports and docks in humid or corrosive media.
Duplex Coated Rock Bolt
It is a combination of hot-dip galvanizing and epoxy coating. It is commonly used in the permanent support of hydro-projects, underwater tunnels, subway tunnels and some important buildings affected by groundwater for a long time. And it is also widely used in harbors, wharfs, offshore buildings that are corroded by seawater.
By the way, all range of rock bolts and accessories can be dealt with this anticorrosion method.
Self Drilling Anchor Rock Bolt Application
Self-drilling anchor rock bolt is mainly used for tunnel and underground engineering, slope engineering, ground and foundation engineering. It can be used for pre-construction support and can effectively enhance the stability of soil and rock mass.
Tunnel and Underground Project
Tunnels and Underground mines are the most common situation where self drilling anchor rock bolts are used. High pressure grouting is achieved through the hollow bar to strengthen the soil or rock mass to ensure the surface stability. According to the types of support in the tunnel, it can be divided into radial support, tunnel-face support, locking the foot support and reinforcement of the tunnel portal.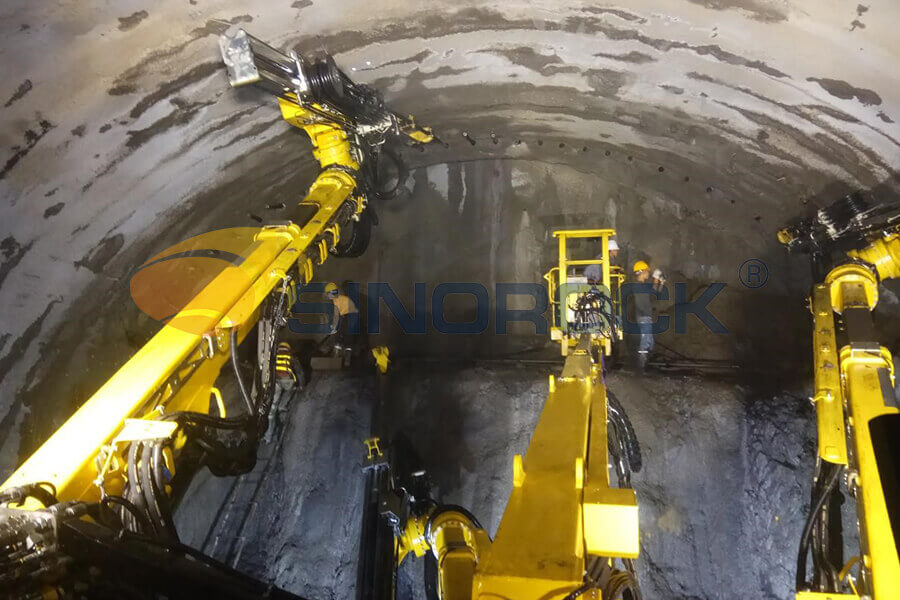 Slope Stabilization Project
In slope stabilization projects, self drilling anchor rock bolt can be used as soil nails, slope protection barrier, falling rock protection, retaining wall, embankment stability, roadbed reinforcement and other different application scenarios.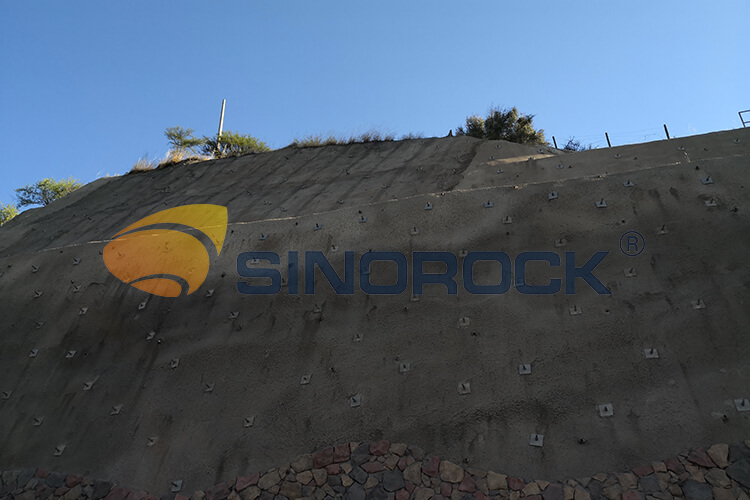 Ground and Foundation Project
Self drilling anchor rock bolt is mainly used for micro pile. Pressure, tension or periodic loads can be transferred to the surrounding soil, transferring structural loads to the underlying foundation structure and limiting the deformation of the building. In these projects, it can be used as new building pile foundation, existing building structure repair, tower foundation, bridge reinforcement, soundproof wall foundation, protective screen pile foundation, anti-floating pile foundation, retaining beam anchoring and other different structures.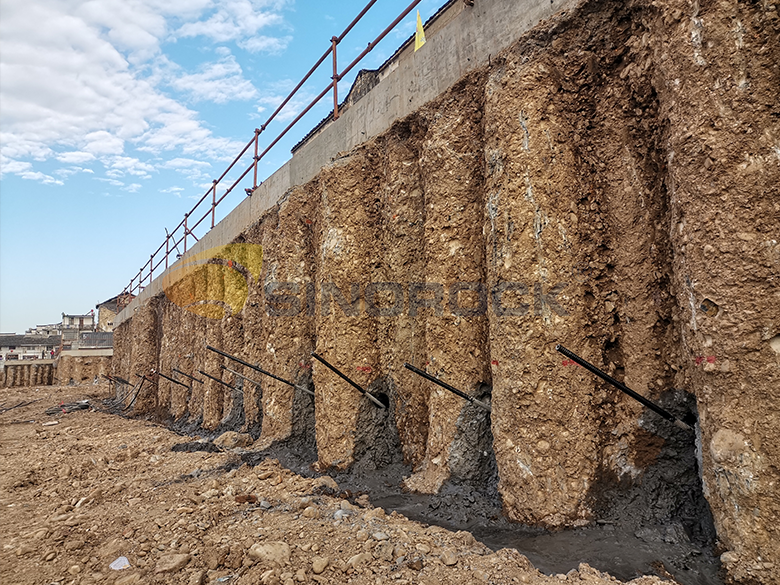 Self drilling anchor rock bolt is an economic and efficiency method to support fractured rock mass. Therefore, it is widely used to various construction projects all over the world. If you need our products, please contact us at sinorock@sinorockco.com and we will respond in 24 hours.