Self-drilling anchor system can control high-speed road subsidence
Time:2020-07-22From:sinorock View:
As an important transportation infrastructure, expressways have developed rapidly in recent years. Various problems appeared in the process of highway construction due to geology, materials, climate, construction technology, etc. How to solve these problems? It is an important issue for builders.
Yexin Expressway in Henan Province, is a major transportation road and plays a vital role in the development of Henan's economy. However, during the construction process, there were many problems, such as damage to the outer drum on both sides of the bridge abutment, leading to road settlement; overpass slope bulged causing road subsidence. In this situation, self-drilling anchor system was adopted to reinforce the road, which solved the potential safety hazards of the expressway.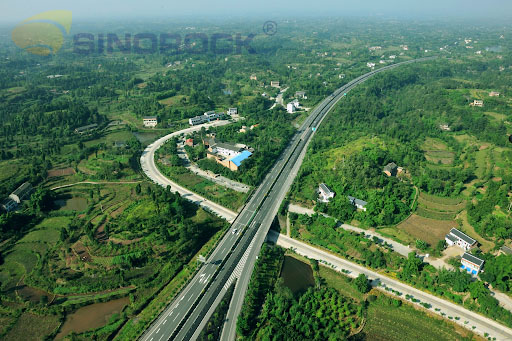 Self-drilling anchors
were drilled directly on both sides of the vertical walls. Utilizing the integrated function of
drilling, injection, and anchoring
, making the cement slurry entered through the hollow pipe of the anchor bar, which ensured the anchor bar consolidated with the rock and soil. Combined with the equal-pressure compaction grouting process, the flow direction and volume of the mud were controlled, and the sinking road near the abutment was contained and restored. It not only solved the problem of external drums on the wall but also achieved a good anchoring effect.
In recent years,
self-drilling anchors
have been widely used in tunnel and underground engineering, slope stabilization engineering, ground and foundation engineering, and have also played a great role in preventing and treating various underground anchoring problems.
Sinorock
is a professional manufacturer and exporter of high-quality anchoring products in China, with advanced technology and production epuipment, and stringent quality control procedures. As a provider of
one-stop solution for geotechnical anchor engineering
, Sinorock aims to meet customers' needs around the world by providing high-quality products and a full range of services to ensure safer and more efficient engineering construction.