Binjiang West Road Pedestrian Mall Project
Time:2022-07-15View:
Project Background
According to the "Huangshan Tunxi Old Street Historical and Cultural District Protection Plan", the overall renovation and upgrading project of Tunxi Old Street continues and inherits the historical and cultural district of the old street, combines with new business positioning, and makes good use of the riverside water resources to enhance city vitality and show the new style of urban culture to the outside world.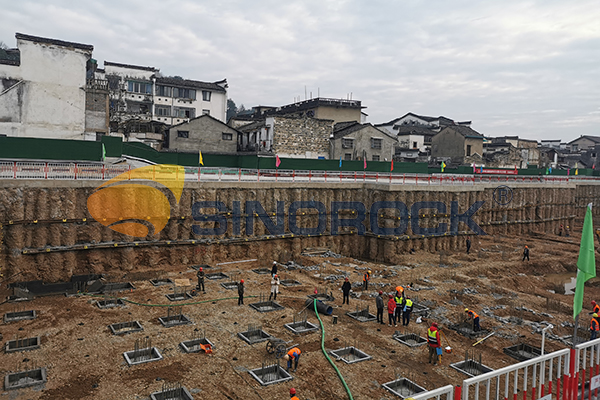 The total planned land area for the development and construction of Binjiang Cultural Tourism Street District in Tunxi District, Huangshan City is about 36372㎡, the building height is 13m. The building has a basement and the 2/3 floors above ground are commercial service land.

Project Overview
| | |
| --- | --- |
| Project Duration: | August 2020 – December 2020 |
| Service Scope: | Anchoring materials, anchoring rigs, and on-site technical services |
| Application: | Business service building foundation support |
| Application Structure: | Pile anchor support, self-drilling hollow anchor bar used as soil nail, part of prestressing |
| Quantity Consumption: | About 20,000m |
| Geological Conditions: | The project is located in Tunxi District, Huangshan City, close to Binjiang West Road and Old Street Pedestrian Street. The rock and soil layers from top to bottom in the proposed site are mixed fill, silt, fine sand, round gravel, strongly weathered siltstone, strongly weathered phyllite, moderately weathered siltstone, moderately weathered phyllite, and a lot of construction waste. |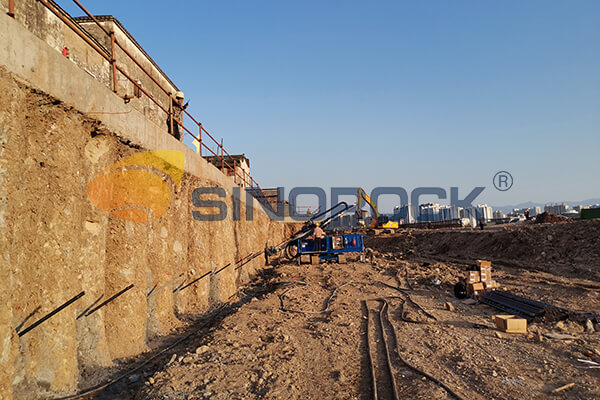 Questions and Challenge
According to the design plan, the anchor bar needs to penetrate the tangent supporting pile and drill into gravel and a strong weathered layer. Because it is difficult to drill into a round gravel layer and needs casing, casing drilling efficiency is low and the cost is high. At the same time, the water circulation will cause infrasound damage to the surrounding area.

The project requires a shorter construction period and lower cost. After multiple rounds of plan review, the project party finally decided to adopt a self-drilling anchor system, using simultaneous drilling and grouting construction processes.

Solutions
The self-drilling anchor system consists of a hollow anchor bar, nut, plate, coupler, centralizer, and drill bit. It can combine drilling, grouting, and anchoring functions together. The anchor bar can not only be used as a drill rod but also can be used for simultaneous drilling and grouting. It can be used as anchor rod reinforcement without pulling out after drilling.

Grouting while drilling can directly improve the surrounding soil, improve its quality and improve the anchoring force.

Grouting is common pressure grouting (0.3-0.5MPa). The grouting adopts net cement with a water-cement ratio of 0.5-0.55, and the compressive strength of the grouting body is 20MPa. SER38/18 hollow anchor bar is selected, with a single length of 3m.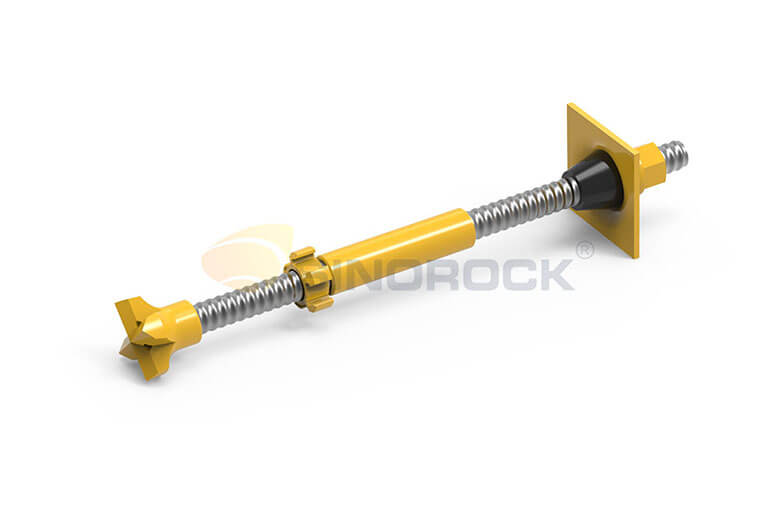 Construction Process
Materials prepared → Drilling rig in place → Connect hollow anchor bar and drill bit → Flush the hole → Couple next anchor bar → Repeated drilling and grouting → Drilling completion → Install breast beam → Foundation excavation → Install next row anchor bar → Installation completion

Construction Equipment
Drilling Rig
Special drilling rig for self-drilling anchor bars HYZ133-100A

Construction Efficiency
The average net drilling time for a single hole (18m depth) is 14 minutes, and one drilling rig's drilling length per shift (8h) is more than 300m. when the weather and site is suitable, and the working surface is convenient, drilling length may up to 500m (12h).

Pullout Test
Pull-out tests at the construction site can determine the actual anchoring force and verify design parameters. The design pull-out value is 15kN/m, the number of tests is not less than 3% of the total number, and not less than 5, and the design ultimate load is 270kN. After testing, the anchoring force of the anchor bar meets design requirements.
The foundation support project was successfully completed after 2 months of construction. Compared with steel bolts, the synchronous drilling and grouting process improves the construction efficiency by more than 5 times. High-quality self-drilling anchor systems provided by our company and efficient construction technology have been highly recognized by construction parties.